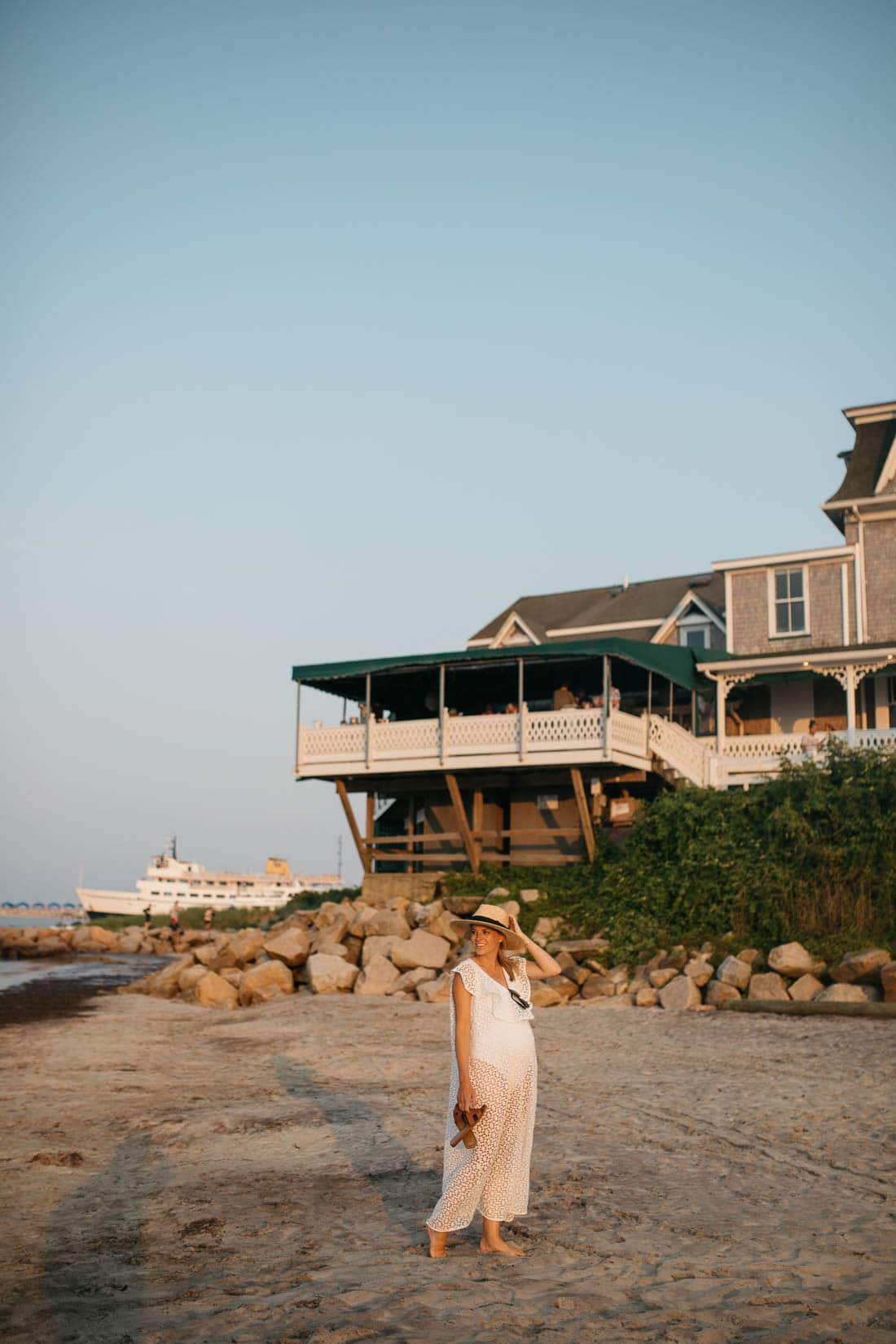 I can't believe this Block Island Travel guide is one of my first in well over a year! So excited to slowly ease back into travel and share places we discover and love with you all as I built out a huge portion of my website dedicated to just this. Living in New England has been an absolute dream and Matt and I are right smack in the middle of so many places we enjoy visiting and have a handful of spots that are on our "to get to" list and in this case Block Island had been one of them. From the moment we stepped on the island, we fell in love. It sounds silly, but even with a short period of time spent there we instantly knew it was a place that would become special to us and we would want to come back to year after year. Quaint, charming, beautiful, but best of all, low key! Super casual, beach to bar vibe all throughout the island and just what we were looking for to relax. Everything from this quick trip is also saved under my Block Island Highlight over on Instagram, just fyi!
We went back and forth debating if we bring Logan along or take a few days for ourselves to soak up the island and have a little babymoon before baby boy #2 arrives in September. while we had an absolute blast just the two of us and it allowed us to really check out and explore so much, we can't wait to bring Logan, baby brother and Hadley back here as it is INCREDIBLY family and pet friendly!
For us, the easiest way to get there was to drive up to New London, CT and hop on the ferry, which was just over an hour ride. There is a cute coffee shop in New London called Muddy Waters Cafe that we stopped at to kill some time before we drove down the street to park and get on the ferry.
Where we stayed:
Matt and I decided to stay at the Block Island Beach House, which I believe is the only property nestled right on the beach. They also have a sister property/extension of this hotel right down the street (maybe a 45 second walk) called the Gables as Block Island Beach House which has a pool and slightly newer updated rooms (but no hotel lobby). You have access to both if staying on property at either.
I will say, if traveling with your family, I would highly recommend renting a house/AirBNB. as the rooms are pretty small and tight (I think this is all over the island). I am not sure how it would have worked if we had Logan along and fitting a pack-n-play and just doing naps in the hotel room wouldn't be great. Matt and I had no issues since just the two of us and we honestly were hardly in the room itself. BIBH is in such a great location, walkable to so many different things, we didn't bring our car on the island and only took a cab once. We could have avoided the cab if we rented bikes, but a few people warned us that is was a bit of a challenging island to bike and would have been tricky this pregnant (I was 30 weeks).
Where we ate:
You all had so many great suggestions of places to eat on Block Island, I can't wait to get back and try more! Since we only had a short period of time here, we didn't get to everything, but made sure to try the most recommended. I also listed out a few spots we passed that you all mentioned were great, just so you have a few extra options if on the island for a longer period of time.
< pictured above: The Surf Shack >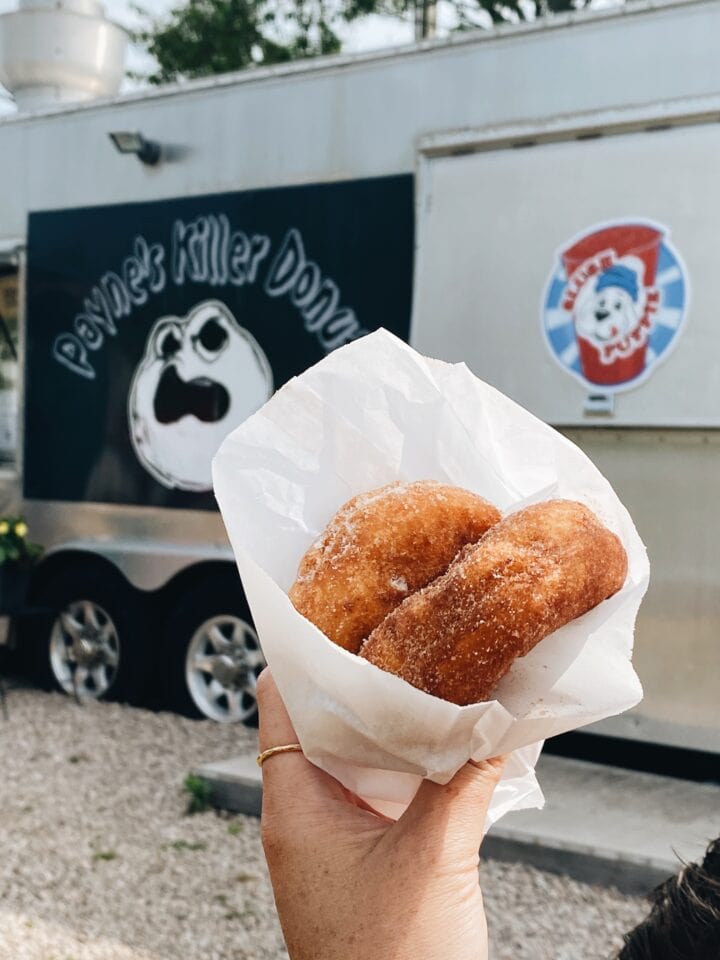 We walked here from BIBH, a little bit of a walk, but 110% worth it! Fresh, hot donuts in 3 simple flavors. I honestly could have ate a dozen myself.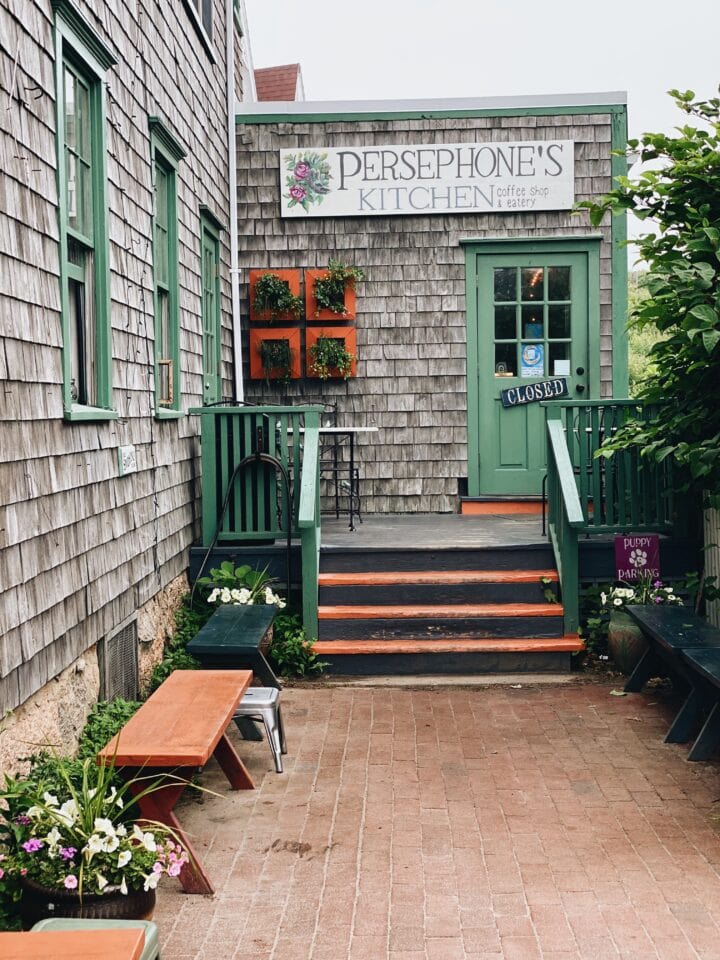 We unfortunately never made it here (it is right next to our hotel, but ended up doing the donuts), but lots of you said to come for breakfast and this place was PACKED! They have a few outdoor seating spots to the right and stay open until 2pm (3pm on the weekends unless they run out).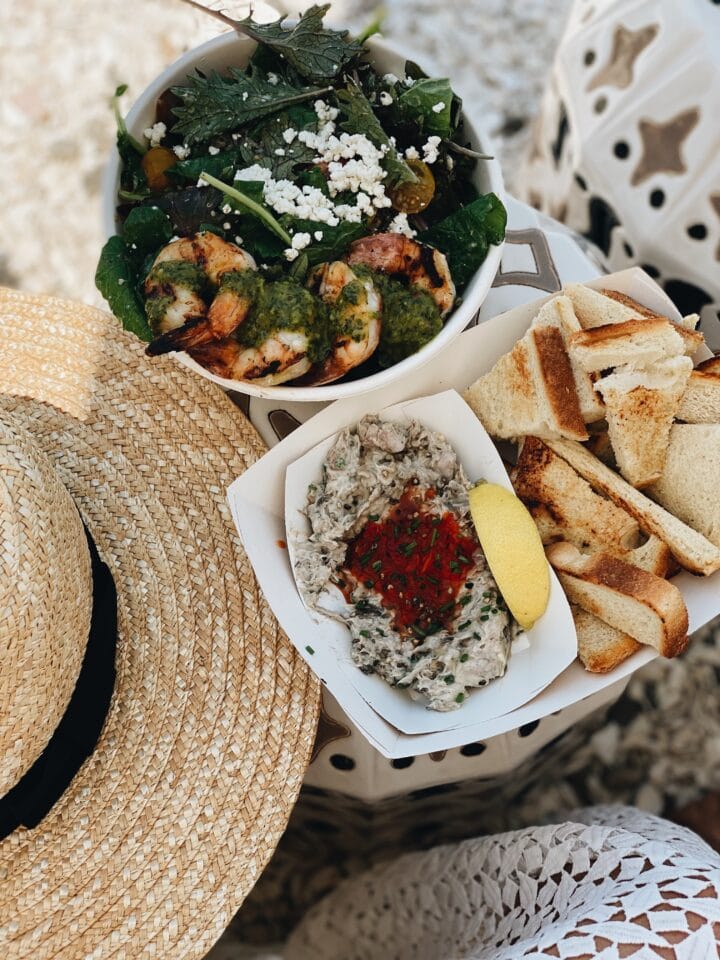 We came here for lunch right after we checked in and were waiting for our room to be ready. It is part of the Block Island Beach Hotel (BIBH) and holy cow it was delicious! Super fresh food options with a great view and overall vibe.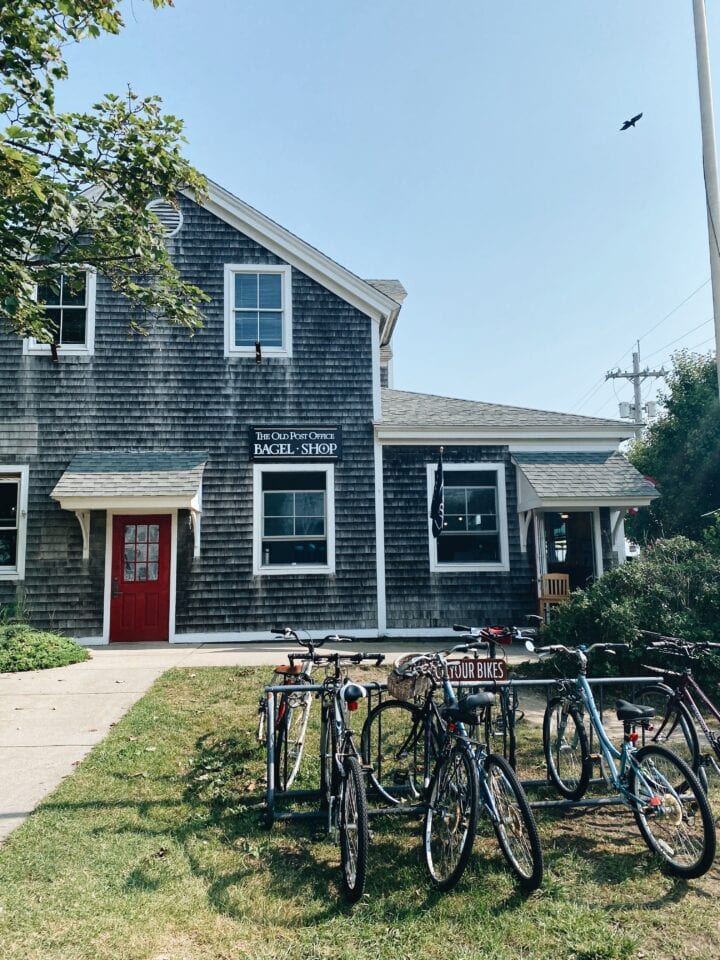 Another spot we didn't get to, but heard great things about! A simple bagel shop with bagels, baked goods, breakfast sandwiches and coffee.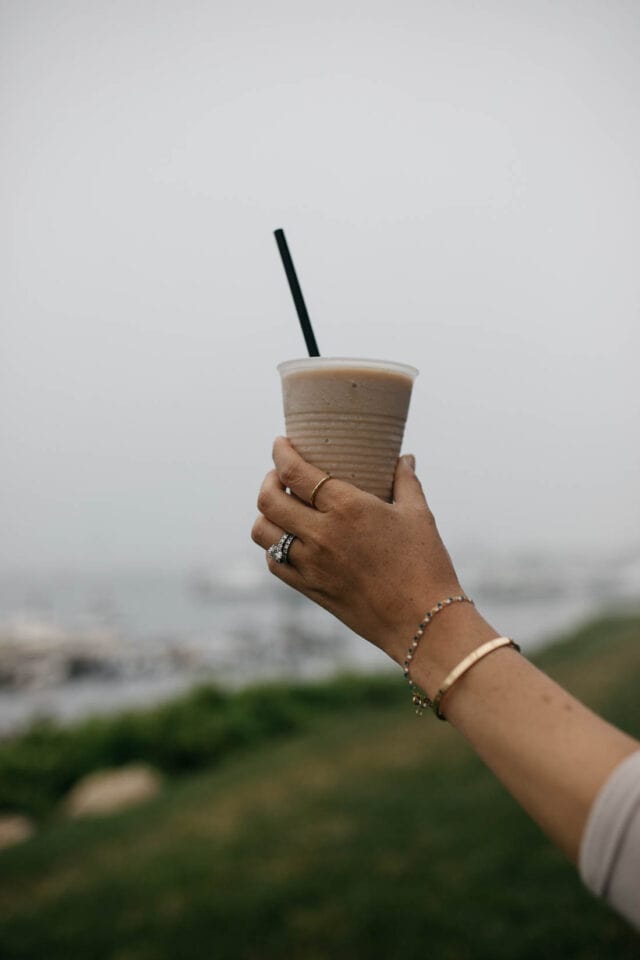 Part of the 1661 Inn, we heard this was the place to come for sushi and mudslides. An interesting pairing, but did not disappoint none the less! My only complaint was that they couldn't make a virgin mudslide, but Matt said they were his favorite of the ones he tried on the island! The sushi was amazing as well and plenty on non-raw fish options for any pregnant mamas out there. We sat on two adirondack chairs overlooking the water.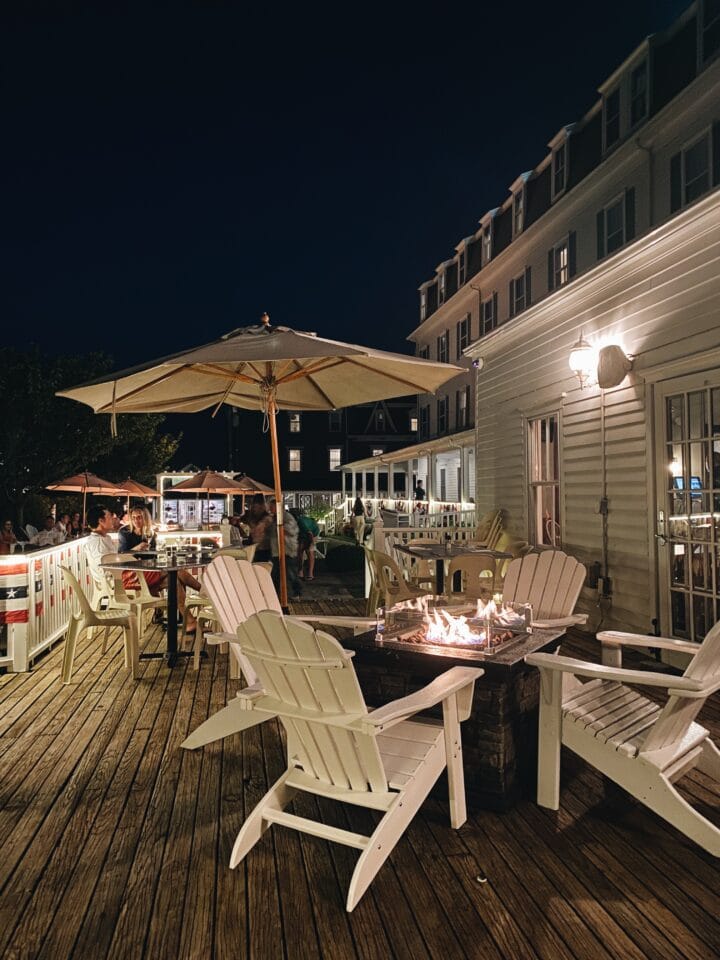 Live music, fire pits and a yummy menu…need I say more?! Also located basically across the street from the BIBH.
< pictured above: The Oar >
What to do:
From simply walking around, hanging on the beach, chasing the sunsets and just exploring, there are so many great options to see and do on Block Island. A few of our favorites were:
Mohegan Bluffs – there is a beach at the bottom of these bluffs that is absolutely breath taking! While it is a bit of a climb (more so on the way back up), it is 500% worth it! The views are stunning and while we went on a cloudy day, there was just an overall sense of peace and relaxation.
Saw the cutest lemonade stand on our walk back to town from the bluffs.
The Ice Cream Place – After climbing back up from the bluffs, an ice cream pit stop is well deserved! The creamiest homemade ice cream ever, still regretting not getting a bigger cone to this day. Someone told me to get Graham Central Station and I am still dreaming about it.
Spring House Hotel for Cocktails + Live Music – Cue the pregnancy hormones, but this place was a d r e a m, I just felt so guilty leaving Logan and Hadley behind! We sat out on the hill in an Adirondack chair listening to live music, watching the dogs and kids play and run all over the rolling hills right in front. It was the perfect summer night and a great option if you are traveling with family and still a must if traveling without. The chairs are first come first serve and they even had a few mocktails on their menu!
1661 Farm + Gardens – If traveling with kids, this is a must! The 1661 Inn has a farm and garden on the island that has all sorts of animals the kids can feed with the free compost found in buckets that are out on the grounds just for this. There is also a food truck where you could grab a small bite to eat, coffee, smoothie, etc.
Walk around town + shop – We had fun popping in and out of all the little shops throughout town. Of course we didn't leave empty handed and picked up some quintessential Block Island gear.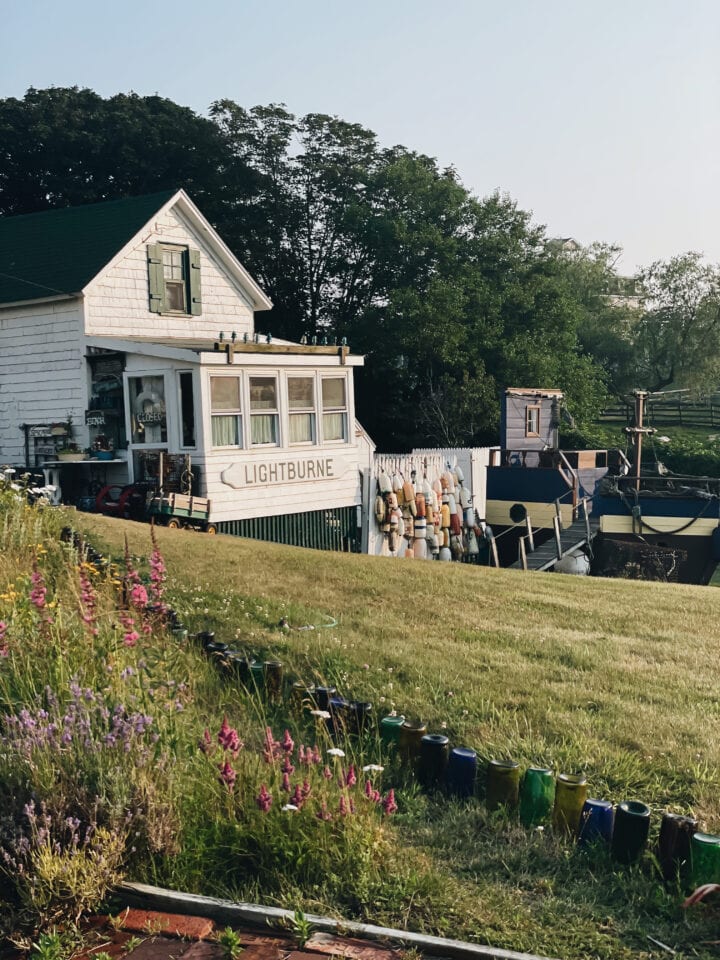 Captain Nicks – This is a nighttime must! Go on one of the nights they have the dueling pianos. We had an absolute blast and I was honestly giddy being back in a bar setting even if I was drinking a non-alcoholic beer, ha! Such a fun and uplifting vibe, especially if you enjoy live music. Another rec we got, but didn't have a chance to get to was live music at Yellow Kittens.
Oh Block Island, you truly are magical! I hope you all found this post helpful if you have a trip planned, thinking about going, or just needing an idea for a getaway. You honestly can stay for as long or little as you would like. We had to cut our trip short due to weather and the ferries not running, so were only there just over 24hrs and still felt like we saw and did so much! Let me know if you go any any thoughts you have.
Shop The Post

Turn on your JavaScript to view content
The post Block Island Travel Guide appeared first on Styled Snapshots.
View in source
No Comment Share Yet
Related Post
Random Posts