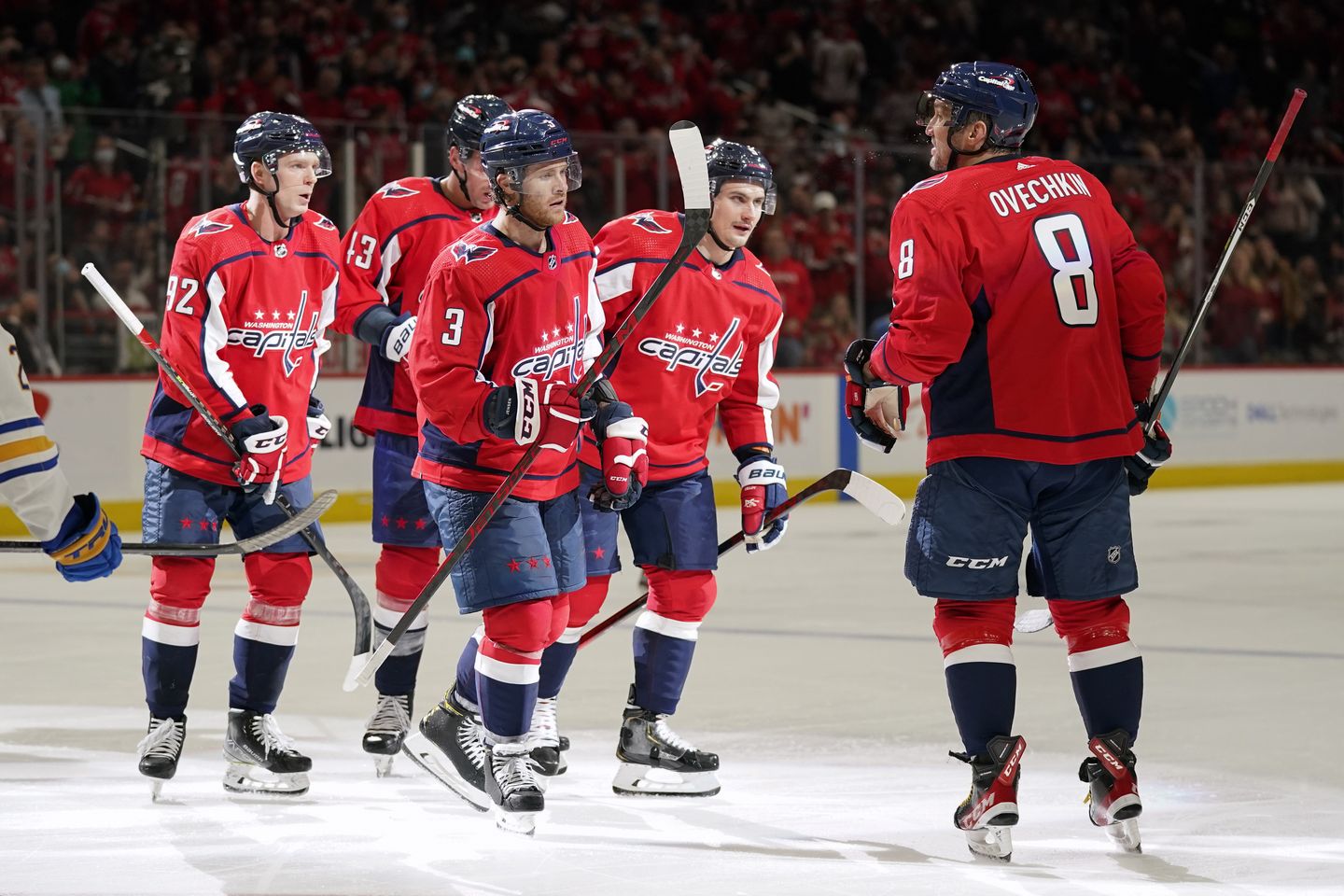 Alex Ovechkin scored the 741st goal of his career Monday to tie Brett Hull for fourth-most in NHL history, helping the Washington Capitals to a 5-3 win over the Buffalo Sabres.
Ovechkin's goal came 8:55 into the second period to put the Capitals up 3-1. He deflected a Dmitry Orlov wrister into the top left corner of the goal. Evgeny Kuznetsov was also credited with an assist on the goal.
Ovechkin's next goal will put him alone in fourth place on the all-time list. He's currently 25 goals behind Jaromir Jagr for third, meaning passing him this season a good possibility. Gordie Howe is second all-time with 801 goals, while Wayne Gretzky is first with 894.
"I just take it day by day," Ovechkin said. "You know, it's nice to be in that company … Obviously, it's nice to be tied, but I still have a couple games left."
The 36-year-old winger in his 17th NHL season is having arguably the best start to a campaign in his career. He leads the league in goals with 11. He also registered two assists in the win Monday — the 599th and 600th of his career — to bring his season point total to 20, which is third-best in the NHL. 
"Another strong game from [Ovechkin] tonight," Capitals coach Peter Laviolette said. "He just had a lot going on. He had a lot of pucks around his stick and at the net. He could've gotten another one or two tonight for sure."
After his team's 2-1 loss to Philadelphia on Saturday, Laviolette was unhappy with his team's effort in the first two periods.
"We were sleeping in the first and got outworked in the second," Laviolette said after Saturday's loss.
On Monday, Laviolette's squad didn't have the same issue, as the Capitals scored in the first three minutes of each of the first two periods. 
Tom Wilson drew first blood 2:13 into the first period when a Trevor van Riemsdyk wrist shot deflected off Alex Ovechkin's stick and then ricocheted off Wilson's elbow. 
Then, 2:30 into the second period, rookie center Connor McMichael received a pass from Justin Schultz and flicked a shot that deflected off Sabres goalie Dustin Tokarski into the back of the cage. Carl Hagelin was also credited with an assist along with Schultz. 
"I thought we were on point at the start, certainly the first period," Laviolette said. "… We were better in the first, then it got away from us a little bit, and that cost us at times. But overall, much better effort with intensity and battle level."
The goal is the second of McMichael's career. The 20-year-old has now registered a point in three straight games, with the latest coming in a game that Ovechkin continued to climb the all-time goals ladder.
"I remember I had his jersey when I was about eight years old, and I was actually him for Halloween, so it's pretty funny playing with him," McMichael said. "He continues to do amazing things, and I'm just fortunate enough to be along for the ride."
Buffalo (5-5-2) quickly responded with a goal less than 90 seconds after McMichael's tally. Ovechkin fell down in the Capitals' defensive zone, and Cody Eakin scored on a one-on-one with Capitals goalie Vitek Vanecek. 
After Ovechkin's goal put the Capitals up 3-1 midway through the second period, Buffalo's Anders Bjork cut the Sabres' deficit in half with a goal 3:17 into the third. Five minutes later, Wilson scored his second goal of the game off a pass from Kuznetsov when his backhand went through the five-hole of goalie Tokarski. 
The two-goal game is Wilson's first of the season. The 27-year-old didn't score in the Capitals' first nine games of the season — instead amassing seven assists — but has since scored in two of the last three games. 
"For me, it wasn't a concern," Laviolette said about Wilson's slow goal-scoring start to the season. "That line was dangerous, and he was a big part of it. He was getting points and assists, and he was getting looks and opportunities. That's all you ask for."
With less than three minutes remaining, John Carlson scored with a point shot during a power play to extend his point streak to five games. Ovechkin was credited with the assist for No. 600, as was Kuznetsov for his third helper of the game and No. 300 of his career.
The final goal of the night came from Buffalo's Colin Miller with 1:04 remaining
The victory snapped Washington's three-game losing streak that followed its excellent October, in which the Capitals earned a point in all eight games for a 5-0-3 record. 
Washington (6-2-4) will play six of its next seven games on the road, starting Thursday with a tilt at Detroit. 
NOTES: Third-line center Nic Dowd was injured in the second period and was quickly ruled out with a lower-body injury. Dowd was briefly on injured reserve earlier this month and has missed three games. … Washington has earned points in 10 of its last 11 games against the Sabres, going 8-1-2 in that stretch. … Axel Jonsson-Fjallby made his NHL debut Monday. He was called up from Hershey ahead of the game and was the sixth rookie to make his debut for the Capitals this season.