YouTube personality Jordan Shanks will likely be called to give evidence in the defamation case brought by former NSW deputy premier John Barilaro against Google, a court has heard.
Mr Barilaro sued Mr Shanks in the Federal Court this year, alleging he was defamed by videos titled bruz and Secret Dictatorship published on the Friendlyjordies YouTube channel. He also sued Google, which owns YouTube.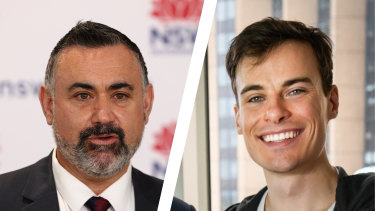 Earlier this month, the case against Mr Shanks was settled, with Mr Shanks issuing an apology through his barrister and agreeing to edit both videos. However, the case against Google remains ongoing.
On Friday, Mr Barilaro's barrister Sue Chrysanthou, SC, told the Federal Court she had received correspondence that Google "reserves the right" to call Mr Shanks in the case.
She asked for Google to give a firmer indication, because Mr Shanks' evidence would "no doubt aggravate the damage to my client".
"We want them to not just 'reserve the right'," Ms Chrysanthou said. "If I'm to cross-examine Mr Shanks, that's going to be some work – I don't have any problem doing that.
"But if this is just some sort of empty threat, it shouldn't be allowed. They should say one way or the other whether it is in fact counsel's intention to call Mr Shanks at the trial."
Lyndelle Barnett, appearing for Google, said her client's "current intention" is to call Mr Shanks as a witness in the case, and Ms Chrysanthou would be informed if that intention changed.
"We're not adducing all of the evidence from Mr Shanks that he had previously foreshadowed, and Mr Shanks had other witnesses who we're not calling," Ms Barnett said.