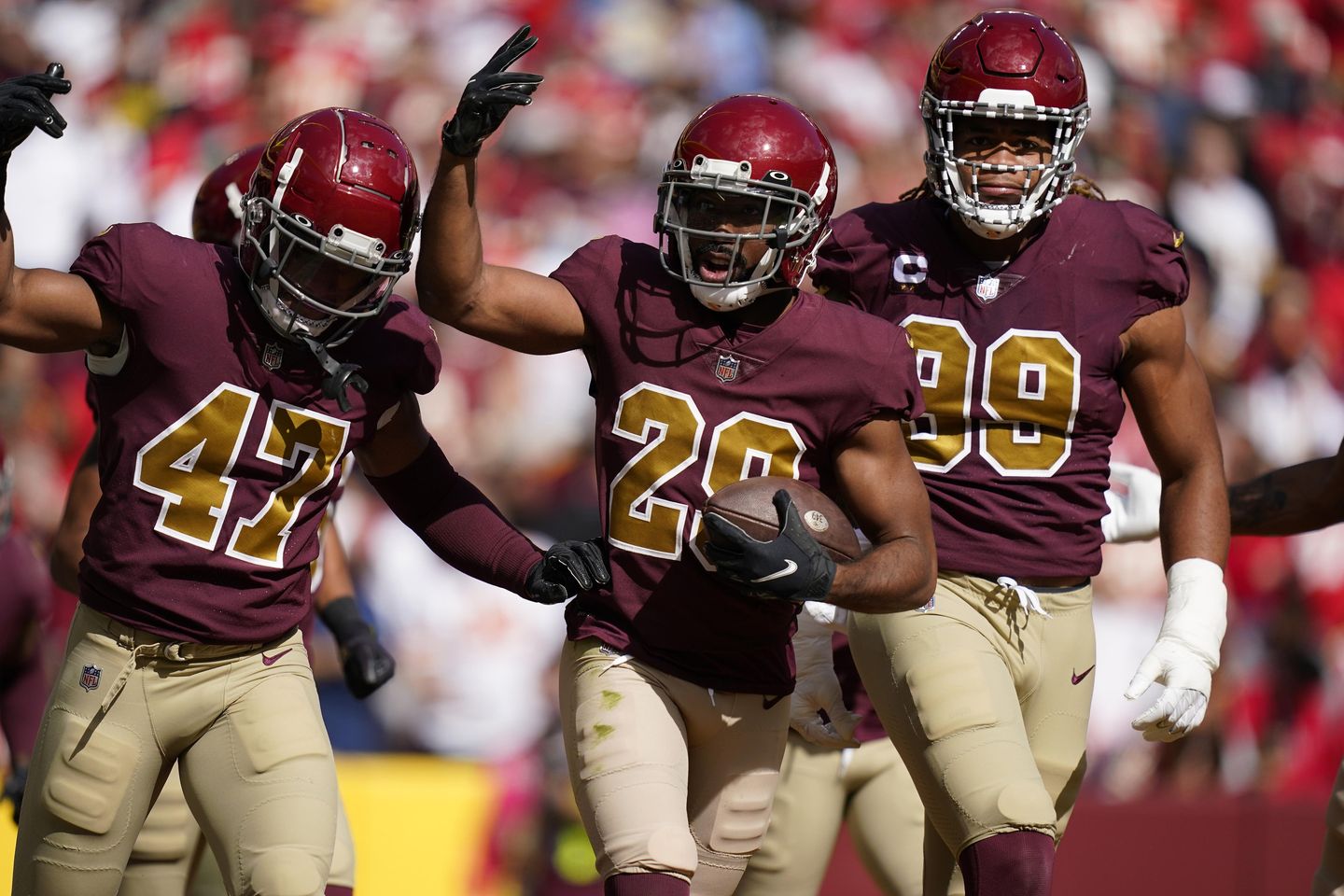 Washington Football Team cornerback Kendall Fuller is accustomed to bouncing around.
Fuller, who was drafted by Washington in 2016, was traded to Kansas City in 2018 — where he helped seal the Chiefs' Super Bowl victory over San Francisco with an interception — before coming back to Washington as a free agent.
On the field this season, he's also been back and forth, from playing in the slot to moving out wide.
However, for the last month, Fuller has remained on the outside thanks to the team's secondary getting healthier. The move outside has corresponded with Fuller playing arguably his best football for the Burgundy and Gold.
"He's probably our most steady [corner]," Washington coach Ron Rivera said Wednesday. "He's a very smart football player who gets the game and communicates well with his teammates. We're very fortunate. He's a lot healthier than he was last year, so he's playing at a better level. Again, you see him being one of those guys who's trying to lead and communicate out there, and that's really helped that group."
In the team's first six games, Fuller played 43% of his snaps in the slot compared to 48% out wide, and in three of those games, he played more snaps outside than inside. But after splitting time between the two spots in Week 6, the Baltimore native has been almost exclusively an outside corner, playing only nine slot snaps in the last four games.
Fuller, who signed a four-year, $40-million contract last summer, has been able to move back outside because of the improved health of corners Benjamin St-Juste and William Jackson III and the emergence of Danny Johnson, who was called up from the practice squad earlier this season, as a slot corner.
"We've got so many guys who are so versatile," Fuller said. "I think the coaches have been doing a good job week by week by putting us in position to play guys at their strengths and be at their best making plays."
"A lot of it has a tendency to do with matchups or the anticipation of what route combinations we can get," Rivera said about who plays in the slot versus outside. "Kendall's a guy that's got very good savvy to him in terms of understanding route concepts. … Danny has a good feel and a good understanding of route concepts and his anticipation has been very good."
Against Carolina Sunday, Fuller allowed just one catch for 11 yards to wideouts he was covering. Newton only threw his way once in 29 coverage snaps.
The Virginia Tech product has one interception and eight passes defended in 10 games this season and is one of Washington's top defenders, according to Pro Football Focus. His PFF grade is 20th among all NFL corners.
"I definitely feel pretty good," said Fuller, who hasn't missed a snap since Week 5 . "Last year, starting out with four interceptions was big … but I definitely feel like I'm getting better this year."
Fuller's improved play on the outside has been welcome for a defense that has struggled to stop the pass.
No team this season has allowed more passing touchdowns than Washington, which is also 28th in passing yards allowed. But the secondary has improved in recent weeks, holding Tom Brady to just 220 yards — and snagging two interceptions, and following that up by keeping Cam Newton under 200 yards on Sunday.
It's not perfect — Brady and Mike Evans connected on a long touchdown two weeks ago and Newton completed 77% of his passes — but Rivera said the "communication" in the back has been much better in recent weeks.
"Those guys have a better feel for one another, and I really believe that's a big part of it," Rivera said. "Early on, they were learning each other. Now, they're a lot more comfortable out there."