According to the Fars news agency from Shiraz, our report today is the story of a jihadist group in Shiraz whose activities began in 2011 under the leadership of Seyyed Abdul Ghaffar Hosseini and in the mystical and sincere circle of martyrs; Anonymous jihadists who rely on faith; They learned the custom of love from their master Ali and gathered a little bit of love to fill the gaps.
A sincere group that started working on the path of jihad by welcoming the guests of Martyr Mehdi Reza Ghasemkhani on Friday nights.
Gradually, the children of the delegations of Shiraz, the third shrine of the Ahl al-Bayt (as), gathered and united their hearts.
First, with cultural works such as setting up exhibitions and Salavati stations in religious ceremonies, they took various vows during the days of martyrdom and festivals.
After that, by identifying the deprived areas on the outskirts of Shiraz, they decided to give another face to these areas by rebuilding and building houses. They provided seven housing units to the needy in this village.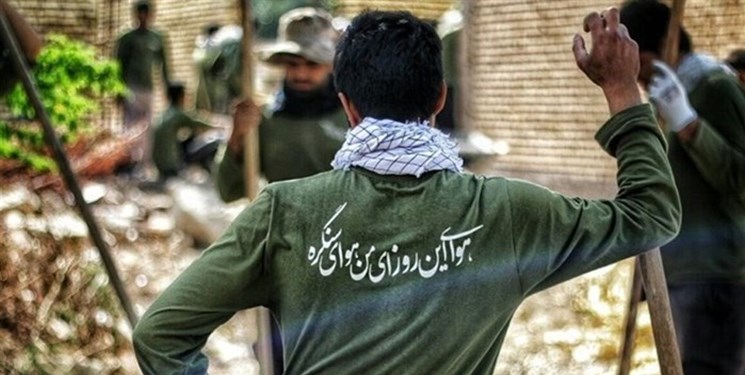 But the indescribable love of this group went beyond the borders of the province and in the Sarpol-e-Zahab earthquake, in a period of eight months, they handed over 6 2-bedroom houses to the earthquake victims again with the power of jihad and only with the support of the people.
The Golestan flood, which was inviting them, hosted them, and this time, by setting up a mobile kitchen, they distributed 3,000 hot meals a day to the flood victims in Aq Qala.
Their indefatigability caused them to go to help the flood victims of Lorestan this time at the intersection of Golestan and Lorestan floods.
Chamshahran village of Lorestan, which was not safe from flood damage, was settled by the help of Jamkaranis and this group provided 30 residential houses to Chamshahran villagers with paving, asphalt and alley construction.
Currently, the concern of the Indica earthquake victims and the construction of temporary housing for the villagers of Kamfeh Sepidar and their livestock is on the agenda, which requires the loving hands of the benefactors and the Mojahedin.
Expressing satisfaction with the faithful and popular help, the young director of the group said that the reason and motivation for starting his activities was Martyr Mehdi Reza Ghasemkhani and said: "Since 1390, we started working with the guests of the martyr on Friday nights and this led Let's walk in the path of jihad.
Seyyed Abdul Ghafar Hosseini added: "We are not under the support of any government body or authority, and all affairs are carried out by jihadi forces and the people."
Referring to their activities in various religious and cultural fields, he noted: "Love for the Ahl al-Bayt is the strength of the jihadist arms of the group's children, and this interest makes them indefatigable in difficult circumstances."
Hosseini invited the people to help in the temporary housing project of the villagers of Komeh Sepidar and added: "Since all our material and manpower expenses are provided by the people, we need the helping hands of the people to continue the project."
He said: "Since our work was jihadi and the basis of it was anonymity, I have not been reflected on social networks so far, but now we need people's help to continue the projects, so we ask all our compatriots to be with us on this path."
End of message / m