Prime Minister Scott Morrison has ended weeks of speculation and confirmed he will attend the United Nations climate summit in Glasgow next month.
Mr Morrison faced international pressure to attend the high-profile talks, where global leaders including United States President Joe Biden and British Prime Minister Boris Johnson will announce their updated plans for climate action.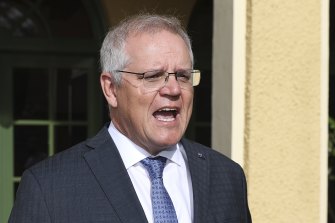 Mr Morrison said on Friday he was looking forward to attending the important event.
"The government will be finalising its position to take to the summit. We're working through those issues with our and colleagues and I look forward to those discussions over the next couple of weeks," he said.
The COP26 summit kicks off on November 1, the day after the conclusion of a meeting of G20 nations in Rome, which Mr Morrison will also attend.
The federal government is under pressure to increase Australia's commitments to cut greenhouse emissions and many MPs expect Mr Morrison's attendance will hinge on securing agreement with the Nationals to commit Australia to a deadline of achieving net zero emissions by 2050.
Mr Morrison described net zero by 2050 as an important environmental goal and said the discussions he was having with his colleagues were about a policy to ensure that Australia's regions are strong and regional jobs were protected.
The UK, US and most other wealthy nations have committed to cut emissions by about 50 per cent or more by 2030 and to reach net zero by 2050 at the latest. Australia has not set a deadline to reach net zero, but is bound by its commitment under the Paris Agreement to reduce emissions by at least 26 per cent by 2030.
The Prime Minister said last month he would not attend Glasgow to be at home and prioritise domestic concerns, including the lifting of COVID restrictions.