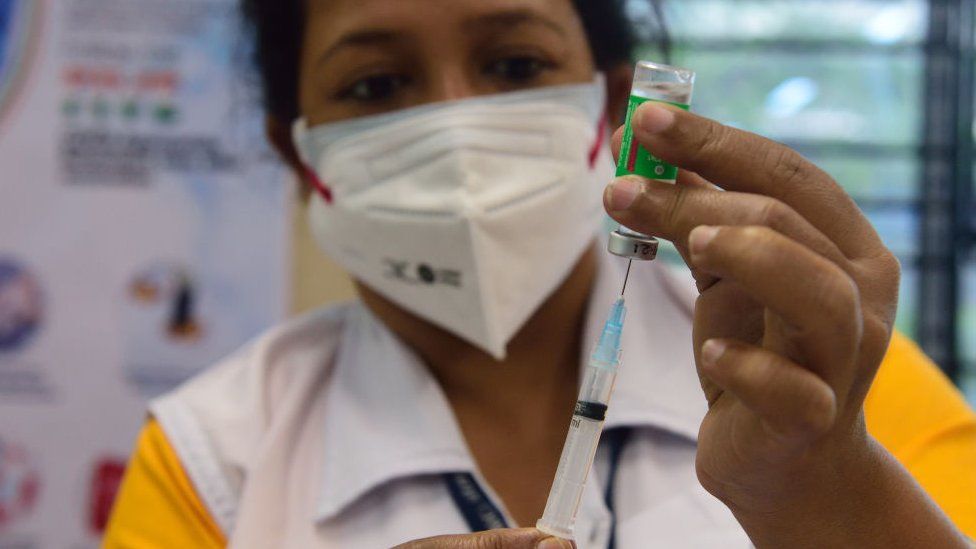 India started its Covid vaccination programme on 16 January, and in the days before and since then, various claims about vaccines have been doing the rounds on social media.
The government has urged people to have the vaccines, and to ignore "rumours and disinformation".
Here's the truth behind some widely-shared claims.
Claim: The vaccine will make you impotent
A politician from the northern state of Uttar Pradesh recently claimed this - but offered no evidence at all.
Ashutosh Sinha, of the opposition Samajwadi Party, has said: "I think the vaccine may contain something which can cause harm. You can become impotent, anything can happen."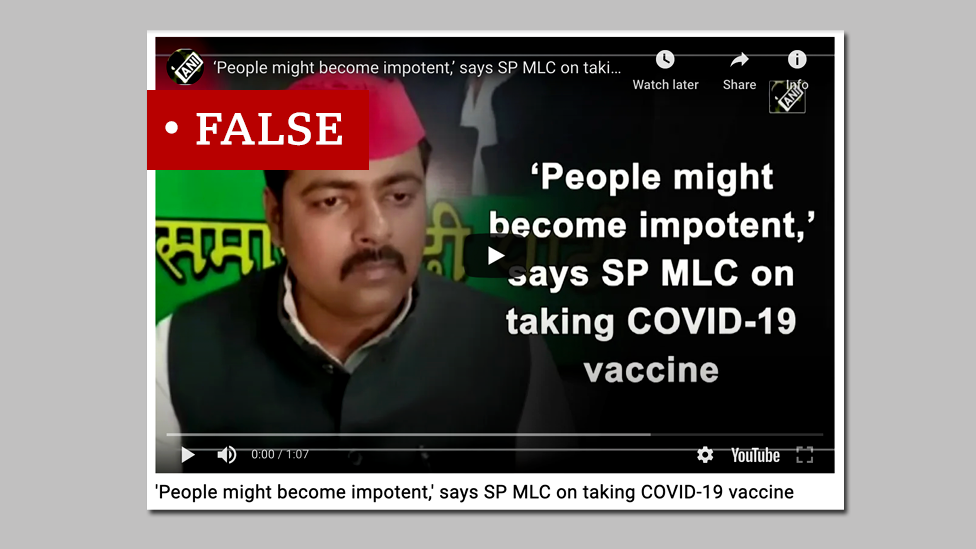 The party's leader, Akhilesh Yadav, has previously cast doubt about the jabs, describing them as the "BJP vaccine" - a reference to India's ruling party.
It has said that the vaccines are safe, although they may cause some side effects such as mild fever, and aches and pains.
The country's Health Minister Dr Harsh Vardhan has also refuted the claim.
This is not the first time impotency rumours have circulated around a vaccine programme in India.
When the country was conducting its massive polio eradication drive several decades ago, some Indians were dissuaded from having a vaccine because of similar rumours.
There was no truth to the claims then, and there's no evidence for them now either.
Claim: Vaccines in the US and England will be expensive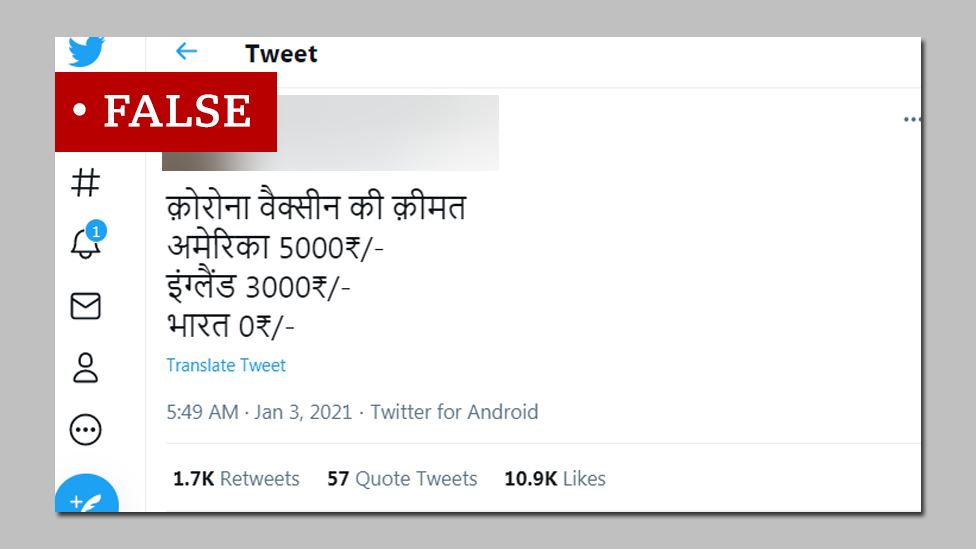 Another widely-shared, but inaccurate, claim compares India favourably with both the the US and England, saying that the vaccine is free in India, while in both the US and in England you will pay.
One Twitter user posted that the US vaccine would cost 5,000 rupees (£50; $69) and in England it would cost 3,000 rupees, apparently to show India's vaccine programme in a more favourable light compared with those in the US and England.
This was picked up and tweeted by a Hindi-language TV channel, ABP News, but then taken down. The figures are not at all accurate.
The US federal government has said that Covid vaccines will be free, although there may be a charge for administering the jab.
But many Americans would be able to cover this charge through various health insurance schemes, and those without insurance would be covered by a special Covid relief fund. So they will not need to pay.
It's also incorrect about England, which is part of the UK's National Health Service, where there are no charges for vaccines. The service is funded through taxation, and healthcare is free to the patient.
It's true that in its initial phase (which covers health workers and frontline staff), India's vaccination programme will be free of charge for those getting the jabs. The government has yet to clarify what happens after that.
The Indian government has made special arrangements with vaccine suppliers to bring prices down, at least for the initial consignments.
Claim: Covid vaccines in India contain pork
Some Islamic scholars in India have said that no Muslim should have Covid vaccines, claiming that they could contain pork products.
But neither of the two vaccines being rolled out in India has such products in them.
Pork gelatine has sometimes been used as a stabiliser in vaccines for some diseases - and the consumption of pork products is forbidden in Islam.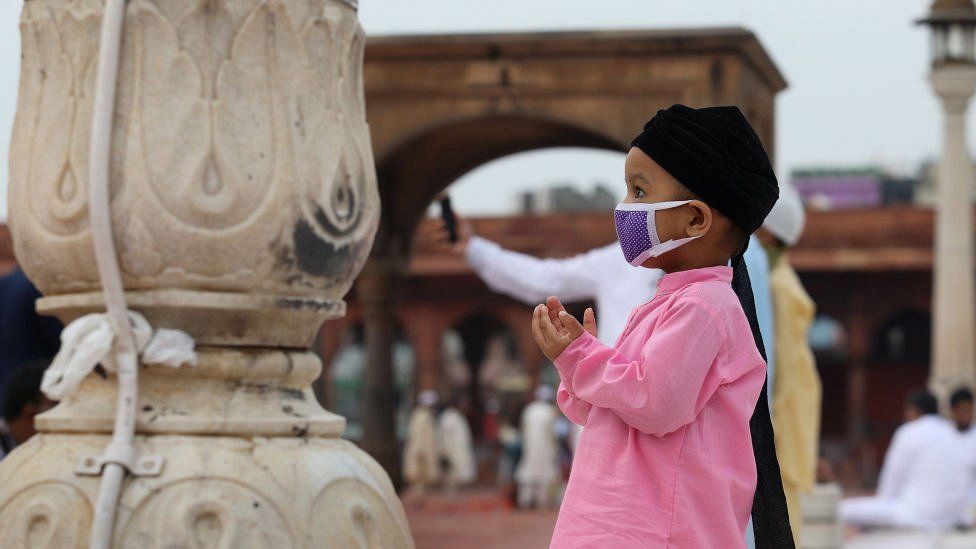 The issue gained a lot of traction on Twitter after a widely-shared post advising Muslims that Covid vaccines were not certified as "halal" (conforms to Islamic law) - although it didn't specify which particular vaccines.
There's currently only two vaccines which have been granted approval in India - Covishield (the local name for the Oxford-AstraZeneca vaccine developed in the UK) and Covaxin, locally made by Bharat Biotech.
Neither uses pork gelatine.
Two other major Covid vaccines, produced by Pfizer and Moderna, are similarly free of pork gelatine.
Some of the claims about vaccine ingredients refer to ones made by Chinese companies, but currently there is no Chinese vaccine approved for use in India.
Claim: The vaccine contains a microchip
As in other parts of the world, conspiracy theories falsely claiming that the vaccines contain microchips have been doing the rounds on Indian social media.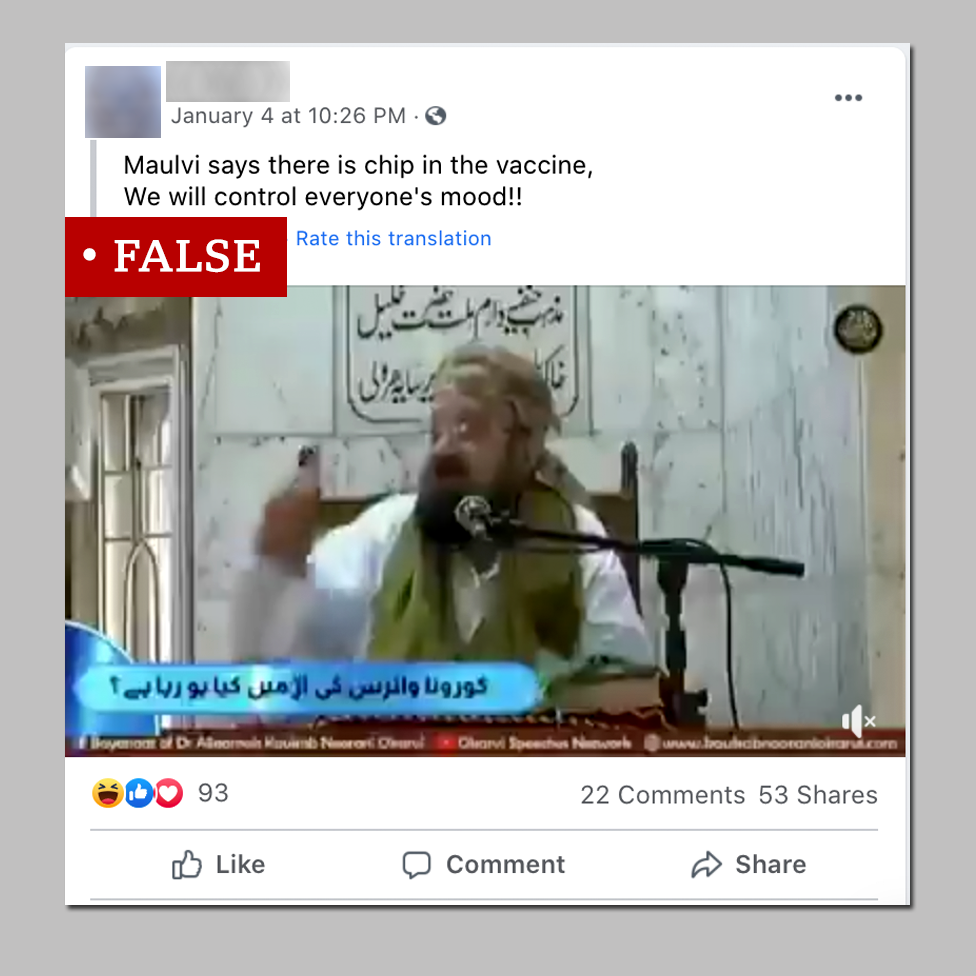 One short video shows a Muslim cleric saying that the vaccine has a chip in it which will control your mind.
The video went viral on Facebook and Twitter earlier this month.
Microchips aren't part of any vaccines, although this claim has cropped up repeatedly in conspiracy-minded groups around the world.