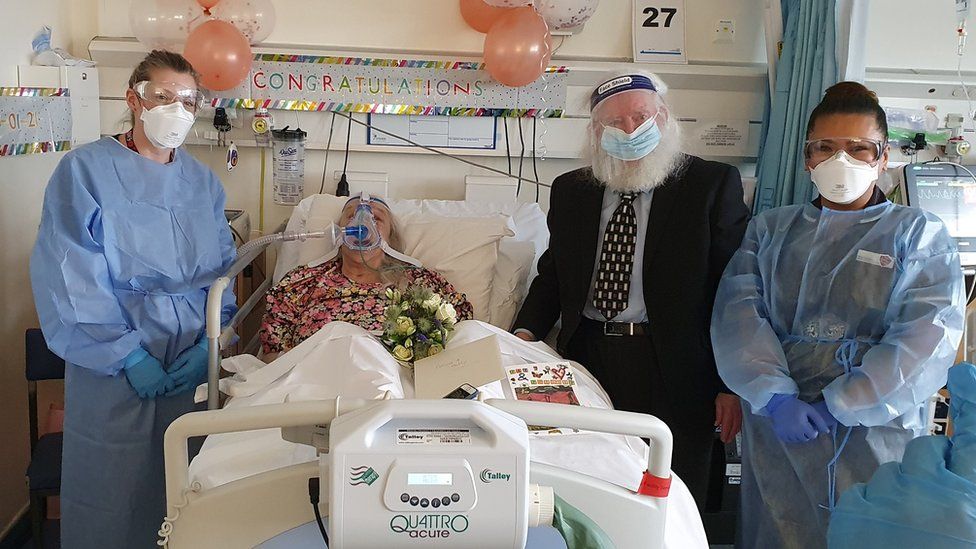 A couple have married on a hospital coronavirus ward after an urgent appeal for a registrar.
Phillip, 78, and Patricia, 88, from Coventry, tied the knot at the city's University Hospital where Patricia is being treated for Covid-19.
Their wedding came after hospital staff member Joanna Shakespeare appealed on Twitter for help to find a registrar.
The NHS trust said it was "an afternoon we won't forget".
The couple have known each other for more than 46 years after first meeting on the set of a pantomime they were both working on.
The trust said they were planning to marry after the pandemic but after waiting a year their plans changed and they asked for help from hospital staff.
The couple borrowed rings, an "army" of medical staff acted as bridesmaids, and matron May Parsons and junior doctor Leigh Anne Brace acted as witnesses at the wedding on Friday.
Someone from Coventry Register Office officiated at the ceremony, the hospital said.
Hundreds of people posted congratulations and comments after the NHS trust published pictures of the wedding on Facebook.