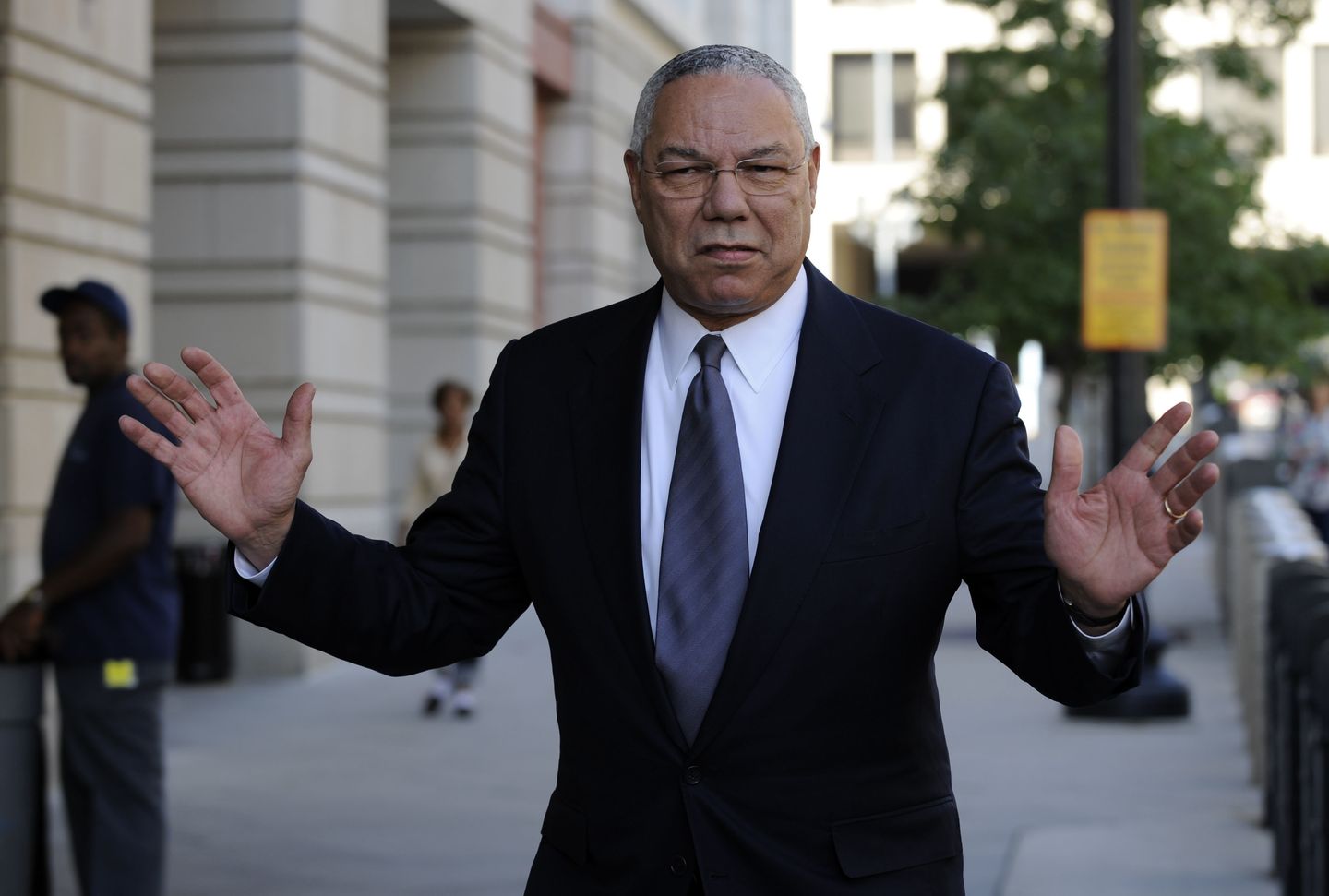 Colin L. Powell, the first Black secretary of state and a key figure in Republican administrations, died Monday of complications from COVID-19, his family said.
The 84-year-old's family announced the news on Facebook, saying he was "fully vaccinated."
"We have lost a remarkable and loving husband, father, grandfather and a great American," the family said on Facebook.
Former President George W. Bush said he and former first lady Laura Bush were "deeply saddened" by Powell's death.
"He was a great public servant" and "widely respected at home and abroad," Mr. Bush said. "And most important, Colin was a family man and a friend. Laura and I send Alma and their children our sincere condolences as they remember the life of a great man."
Mr. Powell served in Vietnam and as the first Black national security adviser during Ronald Reagan's administration. He was the youngest and first Black chairman of the Joint Chiefs of Staff under President George H.W. Bush and had been floated as a contender for the presidency.
He encountered controversy under President George W. Bush for his role in supporting the Iraq War and concerns about the faulty intelligence used to justify it.
"General Colin L. Powell, former U.S. Secretary of State and Chairman of the Joint Chiefs of Staff, passed away this morning due to complications from Covid 19.  He was fully vaccinated.  We want to thank the medical staff at Walter Reed National Medical Center for their caring treatment.  We have lost a remarkable and loving husband, father, grandfather and a great American," the Facebook page stated.
Public health experts say the COVID-19 vaccines provide robust protection against hospitalization and death, but do not guarantee it. In the past months, doctors have reported that many of the vaccinated patients who are seeing bad outcomes tend to be the elderly.
The son of Jamaican immigrants, Mr. Powell was born in Harlem, New York, and grew up in the South Bronx. He attended City College of New York, where he commanded the cadet Army ROTC unit, and graduated with a bachelor of science degree in geology and an Army commission as a second lieutenant.
After completing infantry officer training, then-Lt. Powell was assigned to the 3rd Armored Division in what was then West Germany. That's where he ran into another soldier in the field: Sgt. Elvis Presley.
"We were in this wooded area north of Frankfurt, and I was driving along in my Jeep, and somebody noted that there he was," Mr. Powell told the BBC. "When I walked over to him, he saluted and was very proper and what struck me was that he looked like just another GI."
He said he respected the famous singer for agreeing to serve when his country called.
"It showed he was a patriot and willing to serve as a soldier, and he went back after serving in the Army to a career that became even bigger," Mr. Powell told the BBC.
He was sent to Vietnam in 1962, where he was wounded while serving as an adviser to a South Vietnamese infantry battalion. He returned to Vietnam in June 1968 and was decorated for repeatedly returning to a burning helicopter to rescue others despite being injured himself, the Army said.
He remained in the Army after Vietnam and continued through a number of important military and government assignments. In 1987, he became national security adviser for President Ronald Reagan, for whom he organized several summit meetings with world leaders.
Mr. Powell received his fourth star two years later and was named chairman of the Joint Chiefs of Staff by President George H.W. Bush. He was the first Black and ROTC graduate to have the top military job in the Pentagon. At 52, he was also the youngest officer to serve in the position, according to his Pentagon biography.
• This article is based in part on wire service reports.