For all the chaos and political insults exchanged in Canberra this week, it was the tale of two election promises that spoke louder than most about the priorities of Prime Minister Scott Morrison.
They were both commitments from the last election, and have faced criticism from many quarters. But while one got the red carpet treatment, being personally introduced into Parliament this week by the Prime Minister, the other was left to flounder, with the Coalition doing everything in its power – despite a rebel MP crossing the floor – to shut it down.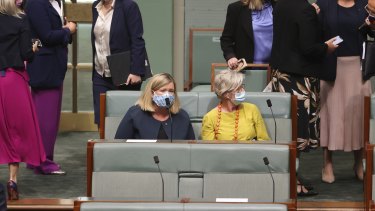 The first, of course, is the Religious Discrimination Bill, which after being revised for the third time by Attorney-General Michaelia Cash, was given the full backing of Mr Morrison. A man of strong faith, he passionately spoke of the bill's lofty ideals: "The protection of what we choose to believe in a free society is essential to our freedom. In a liberal democracy, it is like oxygen."
While the bill was eventually shunted to a joint committee of MPs and senators after mounting criticism over whether it provides enough protection for gay students and teachers at religious schools, its potential to attract conservative votes for the Coalition is too great for it to languish for long.
Meanwhile, Mr Morrison's treatment of his election promise to implement a federal anti-corruption body could not be more different. Despite months of expectation Ms Cash would also deliver a reworked version of the widely criticised bill outlining its powers, the Prime Minister now says the original model is a take-it-or-leave-it proposition.
Mr Morrison knows well enough that is never going to fly. A working draft released a year ago by then-attorney-general Christian Porter was panned by Labor, legal experts and former judges as being too weak and secretive. It only allows members of the government to make a referral to the body; there would be different scrutiny thresholds between police and members of government and senior public servants; and hearings against politicians would not be public.
Mr Morrison made his intentions clear when he branded any effort to strengthen the proposed integrity commission's powers as an attempt at creating a "kangaroo court" like the NSW Independent Commission Against Corruption, which has been attacked by some for its public hearings into former NSW premier Gladys Berejiklian's relationship with former state Liberal MP Daryl Maguire.
But the Prime Minister was not going to be able to bury the issue so easily. On Thursday, Bridget Archer, a Liberal moderate whose Tasmanian seat of Bass is the party's most marginal, backed a move in the House of Representatives by crossbencher Helen Haines to debate the Victorian independent's much stronger private member's bill for an anti-corruption body.